DuraShield Premium Paint Protection Films
DuraShield™ paint protection films provide outstanding protection for damage-prone vehicle surfaces. Professional restylers can give customers the best PPF products available with DuraShield™ paint protection films. You will love that DuraShield PPF goes on like a dream and protects against scuffs, scratches, chips, grit, stains and harsh road chemicals. Customers will love the smooth, clear finish and optical clarity that keeps their vehicle's paint job looking like new for years.
Why Choose DuraShield PPF?
Long Lasting Clarity
Customers want their cars to look sleek and new for as long as possible. DuraShield auto paint protection films offers enduring optical clarity, with a smooth, clear finish.
Chemical Resistance
DuraShield's chemical resistance is unmatched, blocking standard environmental hazards as well as harsh chemicals.
Puncture Resistance
It's impossible to drive for any length of time without rocks, grit and gravel hitting the car from the road's surface. It is possible to guard against the resulting chips and scratches with DuraShield.
Reduced Scuffs & Scratches
Shopping carts, doors, side mirrors and careless passers-by leave scuffs and scratches that mar a vehicle's paint job. DuraShield paint protection film has heat-induced self-healing properties for scuffs and scratches.
Stain Resistance
All cars face stains daily from bird droppings, squashed bugs, road tar, water spots and tree sap. Not only are they unsightly, but they're hard to remove! DuraShield vehicle paint protection prevents stains and makes cleanup easier.
Editable Patterns
Fulfilling customer requests for film and vinyl design patterns or patterns for a custom wrap is no problem! All PPF patterns are fully editable.
DuraShield Titan paint protection film is a vehicle's best defense from rock chips, bugs, and other hazards. Those common threats can significantly harm painted and chrome surfaces on any vehicle. For that reason, Titan™ is made from extremely durable aliphatic urethane that protects the damage prone areas of your vehicle.
The Titan™ Topcoat Is Superior Protection
Constructed With ProConform 6 Mil Urethane
DuraShield Titan™ 10-Year Limited Warranty

DuraShield Satin TC™ Benefits
• Seals out dirt and contaminants
• Resists tough chemicals
• Self-healing top coat eliminates minor scratches when exposed to heat.
• Eye-catching Satin-Matte finish
• Ultra Hydrophobic surface
ProConform 6 mil urethane:
• Excellent puncture resistance
• Flexible conformability for easier installs on complex curved surfaces.
• UV additive protects from sun damage
• Pressure sensitive, repositionable adhesive
DuraShield Satin TC™ high performance matte paint protection film provides the same benefits of our DuraShield Titan™ PPF in a strikingly attractive satin-matte finish. It transforms gloss paint and preserves the appearance of matte paint. Satin TC makes your vehicle the center of attention.
Satin TC is formulated for a clean, matte appearance that lasts for years. It eliminates minor scratches over time. The high performance top coat is formulated to resist the harshest chemicals you'll encounter on the roads today.  Our high performance top coat resists damage from oil, tar, mag chloride and road salts. It also repels bugs, acids and bird droppings.
Our ProConform™ urethane layer protects with the installer and consumer in mind. It installs easier on complex curved surfaces, and offers a superior degree of puncture resistance.
Now you can enhance your graphic installations with vehicle surface protection when using DuraShield Gloss Black™ PPF. Like our Titan™ PPF, DuraShield Gloss Black provides superior vehicle protection, conformability, and incredible durability even when applied to horizontal surfaces. It is a true opaque, black high-gloss PPF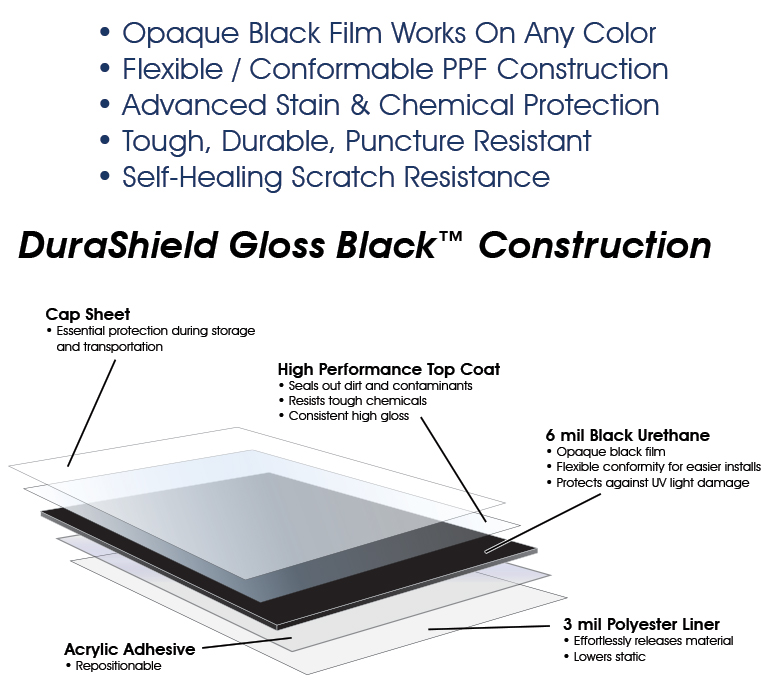 How to Become a DuraShield™ Installer
To learn more about how adding DuraShield™ paint protection film to your product offering will benefit you and your business, contact us today!