SharpShield™ Windshield Protection
SharpShield™ liquid windshield protection improves driver visibility against wet weather, glare, rock chips and darkness. Small rocks and road debris cause windshield chips and cracks that can put the occupants of the vehicle at risk.
Driving with a pitted or cracked windshield is dangerous, yet many drivers put off repairs due to the cost. That's why preventing chips and cracks in the first place is the safest and most affordable option for drivers. 
SharpShield liquid glass protection not only improves visibility. It actually strengthens windshield glass and greatly reduces windshield pitting.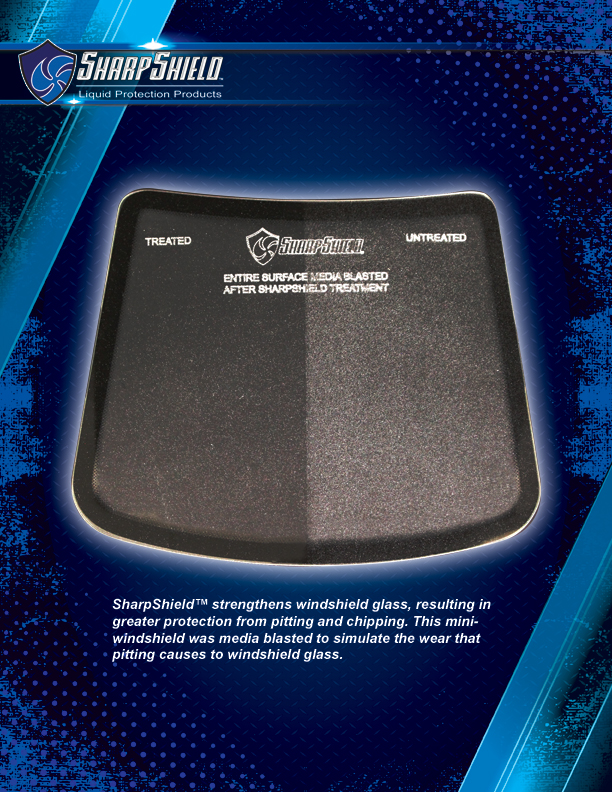 To the naked eye, the surface of windshield glass looks completely smooth. But view it under a microscope, and you'll see that it's covered in ridges and valleys. These imperfections—though microscopic—can compromise the molecular integrity of the windshield and leave it vulnerable to damage. They also cause a "halo" effect and glare when headlights and streetlights refract light off of them.
SharpShield is a polymeric nano liquid windshield solution that chemically binds to the silica content in the glass. It fills in the microscopic imperfections, making the glass more robust and chip-resistant. Minimizing the imperfections in the glass also reduces nighttime glare.
Strengthens glass up to 40%
Nano-liquid formula for superior windshield chip protection
Increases nighttime vision up to 35% while reducing glare
Repels rain, snow, dirt, ice & bugs
Scratch-resistant protective layer lasts up to 4 years
Non-toxic & eco-friendly